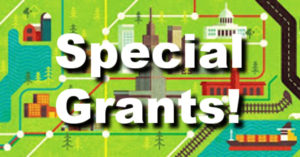 To celebrate 70 years of ministry, the Foundation in the month of June asked for recommendations of organizations beyond the local church to each receive a $10,000 grant. From 100+ organizations that the Foundation invited to apply, the Grants Committee and the Foundation Board selected the following seven organizations:
Help produce 9th "Counter Balance" concert (featuring dancers and artists with disabilities); 3rd annual "Chicago Inclusive Dance Festival" (a free, public event featuring local artists and presenters with and without disabilities); 15th year of "EveryBody Can Dance" (creative movement workshops for ages 9 to adult and for all abilities).
---
Train and certify 500 Chicago area students in life-saving CPR/First Aid and Stop the Bleed and to purchase 4 additional voice assisted mannequins along with disposable equipment. Train 3 additional college students as American Red Cross Certified Instructors who will become field workers.
---
Educate dozens of students through the Tutoring Program, Inspired Youth Singers, and Summer Piano Institute. The students are primarily from Goudy and Swift Elementary Schools, where, respectively, 90% and 82% are from low-income families.
---
Expand access to trauma-informed, drill-less cavity fillings, a restorative procedure that Mobile Care Chicago piloted last year and hopes to launch in all 80 partner schools to celebrate the organization's 20th anniversary.
---
Assist people in Chicago's south suburbs through well-being checks, basic first aid, transportation to shower facilities, minor car repairs, transit passes for travel to work and/or shelter in winter months, ready-to-eat meals, "Boxes of Love" for those headed to detox and rehab facilities, and ecumenical worship services held at a local homeless bridge community, including fellowship and supper, and where all are welcome.
---
Provide services of Transportation and Information & Assistance for elderly and disabled persons over the age of 60 in the northern part of LaSalle County and surrounding areas.
---
Mentor under-served children and youth through experiences at professional sporting events, museum visits, and other venues/attractions they may not normally experience. They will learn about the law and how to respond during interactions with law enforcement. They will learn how to dress for success and will be taught financial literacy so they can learn how to manage money, open checking/savings accounts, etc.
---
Congratulations to the seven organizations above, and thank you to the 201 Methodists that submitted recommendations and to the 100+ organizations that applied.